Spirituality Statement
Spirituality is an approach to the Gospel from a specific point of view: it is a way of living the Gospel in which nothing essential may be omitted, but in which certain characteristics may be accented more than others. A spirituality is one way (not the only way)to understand and live the total Gospel.
The Chaplaincy Team
The chaplaincy team spend one lunchtime per week reading bible stories, discussing the message and engaging in fun activities associated with the story.  This takes place in the Rainbow room.  This room is also available during other lunchtimes for prayer and quiet reflection if the children wish.
Our Year 5 pupils are completing their Faith in Action Award with the support of our Lay Chaplain, Chris Fitzgerald.
This award is administered with NDCYS (The Nottingham Diocesan Catholic Youth Service.
Bishop Patrick has shared his vision for our diocese and has encouraged all of us in Catholic schools and parishes to consider three themes:
Encounter
Discipleship
Missionary Discipleship
During the Advent Term, our liturgies and Word of the Week themes centre around the theme of 'Encounter'. We encourage all of the children to consider ways in which they encounter Jesus in their lives, so that they all know that God loves them and that they can all have a relationship with Him in their lives…
In the Lent Term, we focus on the theme of 'discipleship' and help the children to understand what it means to be a disciple of Jesus…
In the Pentecost Term, we focus on the theme of 'Missionary Discipleship' and help the children understand how they can actively 'do God's work here on Earth'.
The current Senior Chaplains have created a job description and interview process for prospective chaplains next year.
All pupils who apply for this role will also be observed leading a worship and have an interview with the Senior Chaplains.
Key stage 2 senior chaplains lead the station of the cross with key stage 1
Act of Kindness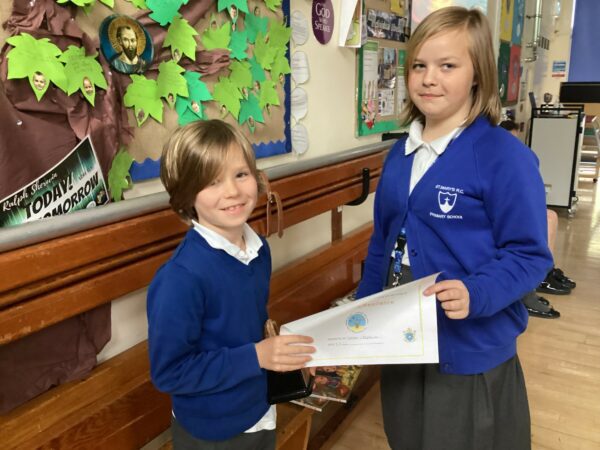 Senior chaplains lead the Hail Mary during the month of May.