Mental Health and Wellbeing
At St. Mary's Primary, we believe believe the mental health and wellbeing of all our pupils is of critical importance. All staff are committed in ensuring that all children are given the opportunities to explore and understand their own emotions and feelings in a way that helps them to learn about themselves and the world around them.
Our Mental Health and Wellbeing work is guided by our Mental Health Ambassador, qualified Mental Health First Aider and Deputy Safeguarding Lead – Mrs Mallabar. We have an Emotional Literacy Support Assistant (ELSA), Mr Stone, who works with small groups or individuals to provide targeted sessions when a little extra support is needed. All of our staff have completed training in supporting children's mental health and the whole school team is driven and motivated by our headteacher, Mrs Chapman.
We use our beautiful location and outdoor learning environments (Forest School and Outdoor Classrooms) to support their physical health and wellbeing by keeping learning active, engaging and energetic. Wellbeing outings, such as wellbeing walks, rambles or play in the parks, are a permanent feature of our school timetable.
The school now has a well established 'Wellbeing Library'. The library is full of picture books and stories that are focused around mental health and emotional development. Parents can take books home to read to their child and use them as a starting point to prompt important discussions and conversations with their children. We are also in the early stages of developing a 'Parent Wellbeing Library', with books to support adults mental health and wellbeing.
If you would like to find out more about the mental health and wellbeing support at St. Mary's CVA, please don't hesitate to ask Mrs Mallabar, Mrs Chapman or our school business manager, Mrs Oxley.
Wellbeing Library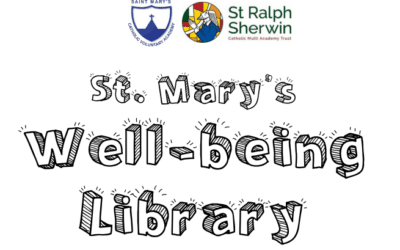 Our Well-being Library has been established to help support your child's personal, social and emotional well-being and development. We have purchased a selection of books that address key issues faced by children today. You can request a book at any time and take the book home to read and share with your child, using the book as a springboard to prompt conversations about them and their own feelings and emotions.
If you would like to request a book, please email : joxley@nmm.srscmat.co.uk
The library is open for books Mon-Thurs each week and any books requested should be ready within 24hours.
If you have any concerns about your child's mental health and well-being you can speak directly with:
Mrs Mallabar – Mental Health First Aider, Mental Health Ambassador, Deputy Safeguarding Lead & PSHE/RSE Lead
or
Mrs Chapman – Headteacher & Safeguarding Lead

For anyone wanting to access some free online training about Mental Health and Wellbeing, there are lots of different courses and programs available at: MindEd Hub